Fall 2014, Issue III
We said goodbye to our semester students, as they finished up their last finals and returned to their families outside of Argentina. It has been a very eventful semester, and this term's group was very engaged, curious, and intrepid travelers, as well! In the last month or so of the semester, they continued to learn about Buenos Aires' history, proved their knowledge of new words and phrases, danced to their hearts' content, and reflected upon their experiences.
Palacio Paz - Oct 30
The students from our Cultural Issues Course paid a visit to Palacio Paz, a huge mansion in the heart of the city that took 12 years to build, and that features a wide range of decorative styles. While our guide walked us through the history of the French architecture and the motives behind the construction of the mansion, the students were able to try out the music room by singing and they even got a chance to sit on the throne-like chairs in the hallway.
They took notes and asked questions, and we all marveled at how grandiose the mansion is. It was a great opportunity to see a tangible example of Argentine history and culture.
Jalapeña - Nov 13
To give the students a mental break from studying for finals, we took a dancing lesson at LaPeña, a bar in the city that celebrates folkloric music and dance. First, we learned the basic steps for three different folkloric dances (Chacarera, Zamba, and Gato), and our instructor made sure to change up the dances and test our steps. 
Then, we settled in for a meal of empanadas and tamales, while listening to folkloric music, including a recital of students who were building their music skills. Dancing was a good opportunity for the students to get their blood flowing and let all their studying sink in - we know the students did well on their final exams!
 Visit to the US Embassy - Nov 21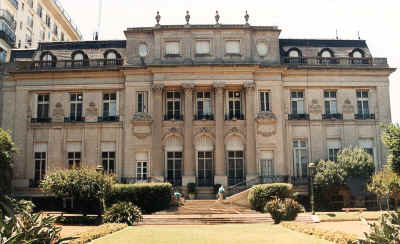 Due to steady rain outside and strict security inside, we couldn't get a picture of the students! You'll just have to believe us that the students had the opportunity to meet with the new US Cultural Attaché in Buenos Aires at the US Embassy building. A number of US students studying in Buenos Aires, as well as Argentinean students recently returned from their studies in the US, were invited to speak about their experiences and exchange ideas.
Student Videos
Spanish language students made videos defining words and phrases they learned right here in Buenos Aires to include in their very own Porteño Dictionary!
Spanish language students also made videos explaining their Argentinian experiences through images.
Farewell Party - Dec 2
Students, faculty, and staff members gathered together for a night of celebration for a completed semester. We chatted and danced and toasted to a lovely semester together. We wish our students the best of luck in their future endeavors!  UN ABRAZO GRANDE PARA TODOS!